Picus Store Fire
Due to the presense of Picus names on my genealogy website, on 7/26/1997, I received the following email:
My name is Jim Flaherty and I live in Nortern California. I am a Fire Captain and of course collect fire related memorobilia. A few years ago I purchased a photo postcard of what appears to be a rural store building about midway to burning to the ground.
The picture is labeled "Picus Store Fire Dec. 16, 1930". As I am unable to locate any U.S. city by the name of Picus, I am considering the possibility that it may be the name of the proprieter or like many other small towns it either no longer exists or the name has been changed. I would appreciate any information you may be able to provide in my attempt to identify the photo. If you are interested I would be more than happy to send you a copy of the photo.
Thanks,
Jim
We exchanged emails and he sent me this photo.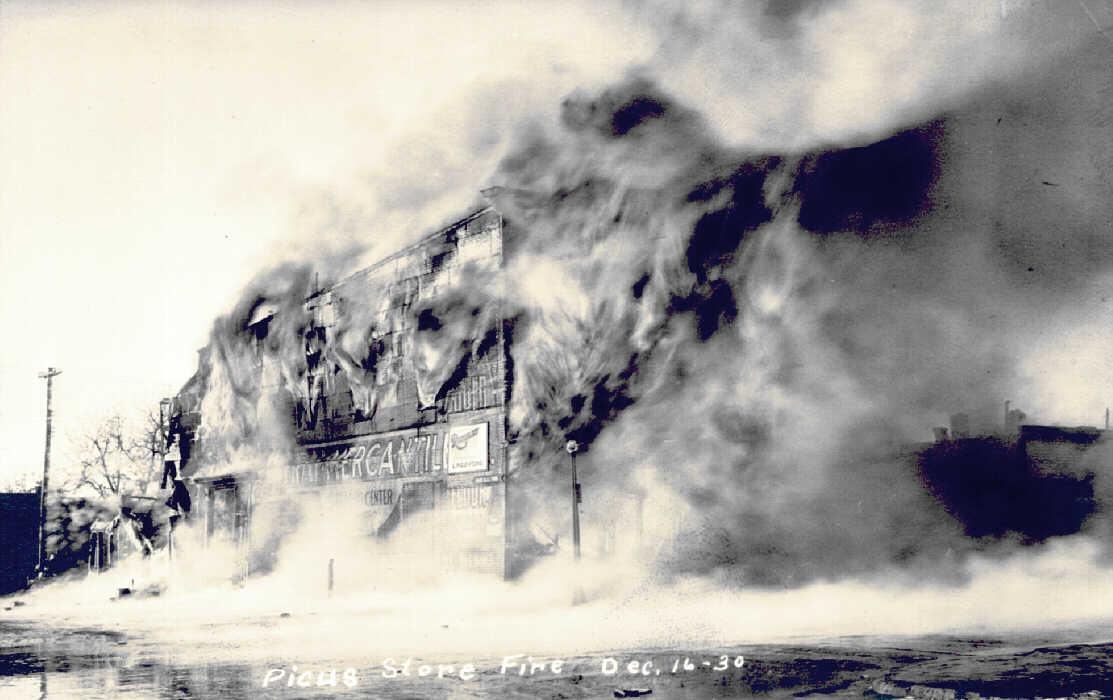 We spent months doing research, but we were not able to figure out where the store was located.
---
Fast forward 7 years.
While surfing the internet for I-don't-remember-what, I encountered an obituary for a man who was once a meat cutter in "L. Picus Store in Friendship, WI". Could this be the store that burned? (Since rebuilt, presumably)
The Family History Center made the finding the answer easy. Thank you FHC! They have searchable images of old newspapers. In addition to several reports on the fire, which you can find below, I also found the following two (COMPLETELY unrelated!) tidbits:
From the Wisconsin Rapids Daily Tribune - 11-29-30
Roy Picus is my grandmother's first cousin
From the Wisconsin Rapids Daily Tribune - 6-22-44
Leonard Picus is Roy's nephew

The newspaper articles I found told me that the store in the picture was L. Picus and Sons store in Friendship, WI. I also learned from the articles above that my great-grandmother's sister's family lived in Friendship. Since my great-grandmother's sister (Fannie) was married to Louis Picus, I strongly suspected that her husband owned the store. So I emailed to Chuck Picus, Louis' grandson (whom I was not in contact with seven years ago) asking him whether he knew if his grandfather owned the store.
Chuck not only verified that the L. Picus Store was indeed owned by Louis; he also sent me a treasure trove of information about Louis and Fanny Picus and their family.
Here is his story:
Hi Jackie, Louis Picus was my grandfather. He came to the US about three separate times, and then Fannie came to join him with two children that were born in Russia, one Morris and the other Anne. Can you imagine taking that awful voyage three times and twice back?
He was instrumental in bringing over other family members, including a brother Bill Picus who is not on your tree since he was not related to the Himmelstein's. Bill settled eventually in Loyal, Wisconsin and had several offspring, some of whom live in Milwaukee. I thought Louis had helped Rose and Ephraim settle in Madison. These were his in-laws and as you remember, Rose and Fannie were sisters, and Ephraim, presumably had the same last name because they were from the same shtetel near Pinsk.
Louis, in the 1880s and 90's was a traveling store or pushcart in eastern Wisconsin, settling in several towns, Omro, Princeton, Ripon, and finally settling in Friendship. As more sons arrived, he called the store L. Picus and Sons which "thrived" for 60 years. Many of the small towns around us, had one Jewish merchant, many of whom were related or came from the same area of White Russia.
Louis retired to California with Fannie about the time that I was born in 1929, and died shortly thereafter. Anne and Lillian went to California at that time, or later, as well. Anne married a dentist in Milwaukee and has a daughter, Lois Kremith, in LA.
The store was left to the three sons. The fire was a disaster but it recovered, did poorly through the depression, but well in the 40's. Both Len, who you met, and I were born in Friendship. Nye died relatively young in Friendship, Roy and family moved to Milwaukee about 1950 to start another store and get out of the small town. His daughter is Sue, a bridge player, among other things. My brother came back to Friendship after the "war," and in the 1960s decided to move to Milwaukee with his family as well, leaving the small town to be nearer a Jewish community. Morris moved to LA as his father had done, until his declining last years when he joined us in Rockford.
The store was an era, and a wonderful saga of the Jewish migration, success and failure, integration and some assimilation. I'm happy to see your thirst for this information. My Dad and Mother remained close to Rose and Ephraim (Rachael and Frauim), we visited often, and stayed with them in a small flat over the kosher butcher shop when we came into Madison for the high holidays. Sam Picus, their son, lived around the corner, over the bakery that his wife's parents ran.
---
If you liked this story, you might also enjoy the Picus census pages and ship manifests I have found.
Here are the reports of the fire:
From the Wisconsin Rapids Daily Tribune - 12-16-30
This was a front page article under the banner headline "$50,000 FIRE SWEEPS ADAMS BUSINESS BLOCK"

From the Wisconsin Rapids Daily Tribune - 12-17-30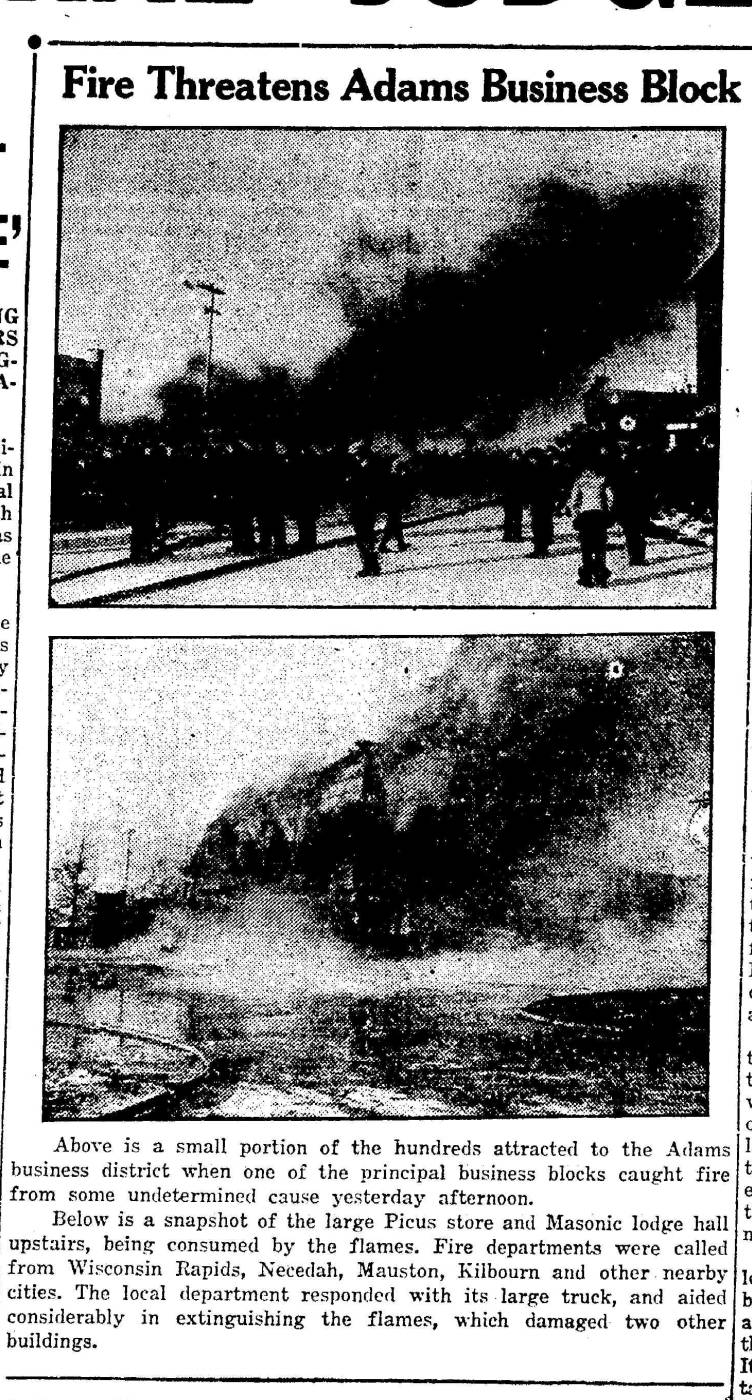 From the Waukesha Freeman 12-18-20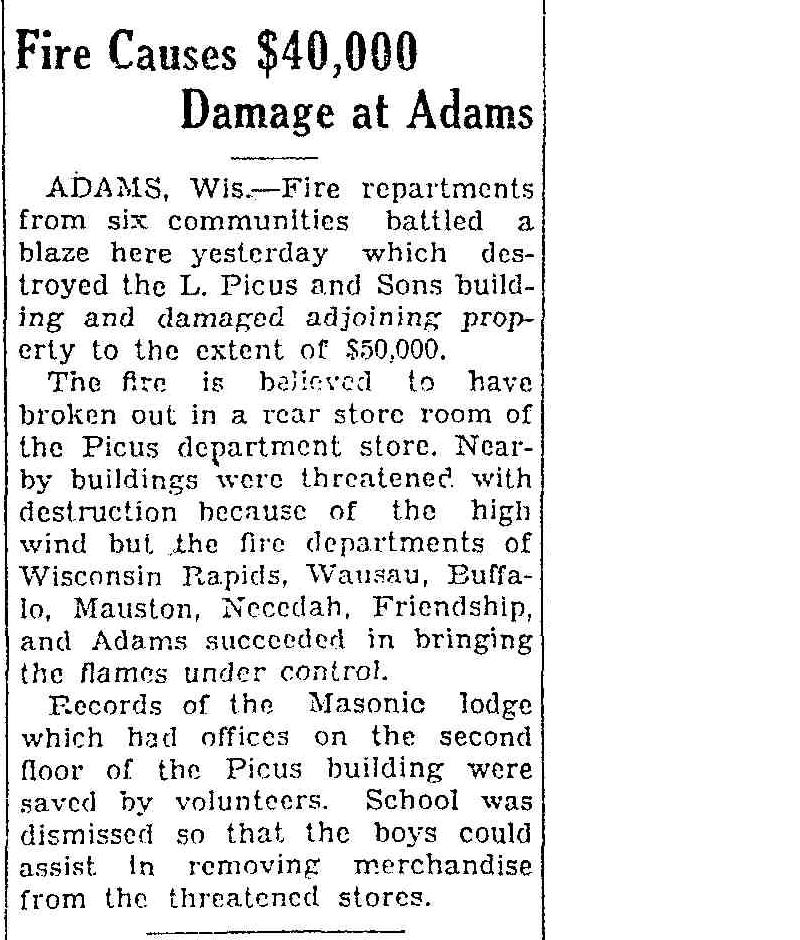 From the Wisconsin Rapids Daily Tribune - 12-26-30
I think this article was just restating an article that had appeared in the Adams County Times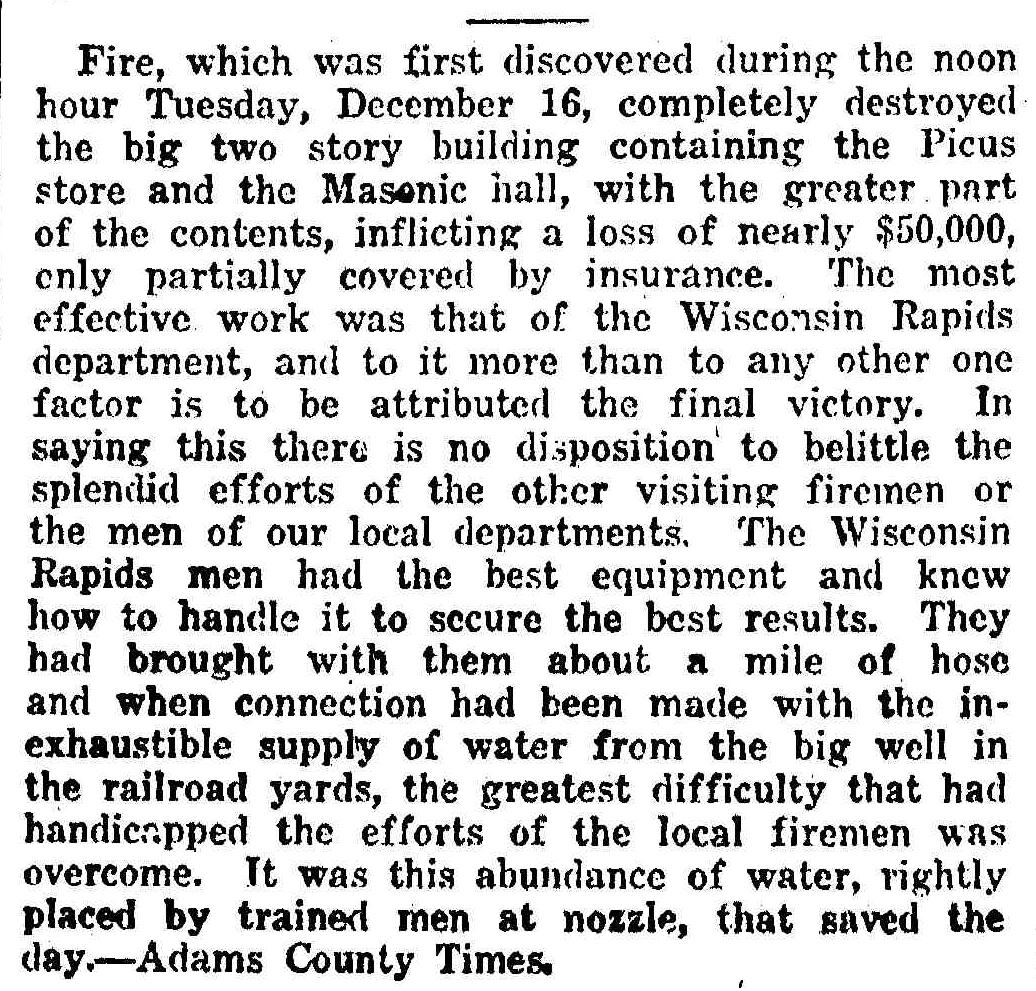 And in 2020, I found this history of Adams county, which has the following 4 references to my relatives:

On the page numbered 152:
1922
*J. B. Hill, J. W. Purves, Louis Picus, Charles Krejchek and G.F. Treadwell incorporate the Friendship Creamery Company

On the page numbered 156:
1930
*Bad News: Fire destroys the Picus Store building and severely damages neighboring buildings in Adams; built in 1912, the building was one of the first in Adams.

On the page numbered 156:
1954
*The Adams County Memorial Hospital Association is incorporated with Leonard Picus as chair; four proposals for hospital funding are placed before the county board, all are defeated.

1957
*The Adams County Memorial Hospital Association votes to build a new $185,000 hospital on the Polivka site; a 15-member board is elected; officers are President Robert Roseberry, Vice-President Leonard Picus, Secretary Irene Hardin, Treasurer Harold Ashworth.

File Created on 19 June 2004.


Send corrections, criticisms and comments to: genealogy@jmz.la
Please put 'Family Tree' on the subject line to help me distinguish you from the spam.